Implant Surgery
What are Dental Implants?
Many people who have one or more teeth missing find conventional dental appliances, whether fixed or removable, either too cumbersome or sufficiently ill-fitting to be annoying. The quality of life often suffers. These same people have reported great comfort, convenience and aesthetics when their lost teeth were replaced with implants.
Implants are commonly sought as an alternative and are now considered the standard of care as determined by a consensus conference of the World Health Organisation in Baltimore in July 1999. This effectively means that the gold standard for replacement of missing teeth is now considered to be dental implants.
The implant fixture is a titanium "screw" or "post" that Dr Younessi will surgically place into the bone of the jaw. This fixture then integrates into the bone as if it were a normal component of the bone and acts as a platform for your dentist to build a prosthesis. The prosthesis is simply the appliance that replaces the lost tooth. It can take many forms from one intended to replace a single tooth to an appliance replacing all the teeth in the mouth! The complexity of the prosthesis dictates the number of implant fixtures required.
Some types of prostheses are permanently fixed and others can be removed and replaced at your will. You would typically remove them only for hygiene.
Implant placement is demanding, time-consuming, and intricate. As a consequence it is also not inexpensive. It requires from you; compliance, attention to detail, an exacting personal mouth care, and some patience.
We will have an extended consultation to determine:
your suitability for implant surgery,
a treatment plan for your overall needs,
bone quality and quantity,
what investigations eg. X-rays are needed,
and the number and type of implants.
The planning stages are pivotal to success and may take more than one visit to finalise.
We need to liaise carefully with your dentist and/or his nominated prosthodontist whom typically orchestrate the plan. The surgical and the prosthetic planning are linked but ultimately your dentist needs to determine how many implants are required and where these are to be placed.
To assure your comfort we will select the appropriate method of anaesthesia for you. One or two implants can be placed by local anaesthesia, possibly assisted by intravenous sedation. For multiple implants or for patients who need bone grafts, a general anaesthetic at the hospital is more appropriate.
Is Implant Surgery for Me?
People with severe debilitating illness may not be suited to implant surgery until such conditions are addressed. Success of implant surgery is very much dependent on mouth hygiene and smokers are thus poorer candidates.
In some patients bone may need to be grafted onto the jaws before implants can be placed. This will be discussed at some length and will be incorporated into your treatment if you become a candidate for this complementary operation.
Implant Surgery
This was classically performed in two stages separated by 4 – 6 months to allow for integration of the implant. However, recently a single stage surgery has been advocated whereby the two stages are combined. That is, placing the implant post and the abutment simultaneously. The abutment is the component that jots above the gum and will eventually be replaced by the crown. Put differently, it is the component you can actually see in your mouth until the porcelain crown replaces it.
Dr Younessi will attempt to perform one stage surgery whenever possible. This is not suitable when there has been infection or there are technical considerations to the contrary.
The images below are from an educational pamphlet by Nobel Biocare, but all systems in the market follow a similar theme.
Stage One
An incision needs to be made to peel the gums back in order to allow access to the bone beneath (1). Next the bone is drilled to the required depth and width (2) and the implant fixture is positioned (3, 4). The soft tissue is then stitched closed (5).
Stage Two
Some four to 6 months later the soft tissue is re-opened and a healing abutment is placed (6). This is the component above the gums on which your dentist will make the artificial teeth. With placement of the healing abutment the surgical phase is completed.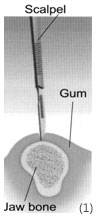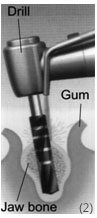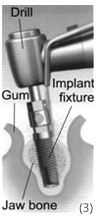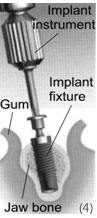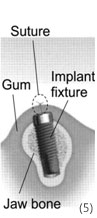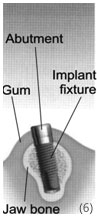 Immediate implants are those placed into an extraction site (tooth socket) as soon as the diseased tooth is removed. It is clearly ideal for its expediency, yet it is not always possible. The limiting factor, as in any other implant case, is availability of bone of adequate volume and quality to receive an implant post and the ability to negotiate nearby vital structures such as nerve trunks or the sinus cavity.