Meet our staff
Both the secretarial and the nursing staff are highly trained to care for your needs. They appreciate the intricacies of a visit to a surgeon. You can expect from them compassion, competence, care, courtesy, and attention to detail.
We are here to listen to your questions and concerns and to help provide solutions leading to better health for you.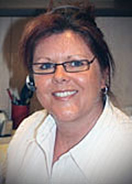 Mrs Lynne Stewart
Lynne is a truly gifted person with not only secretarial skills but also banking and business experience. She has been with us for some eight years. Her duties are secretarial and whilst she is ostensibly in a reception capacity, she does much more than just that. The handling of appointments, booking of hospital theatres and day to day liaison between patients, doctors, and families is amongst her duties. She manages the discharge of her duties with efficiency and grace. You can expect a charming smile and a genuine calm and caring manner about Lynne. She has the unique talent of making even the most nervous patient feel at ease. This is only matched by her baffling ability to book patients when to the casual observer such a task might appear insurmountable!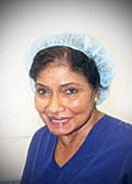 Mrs Tulsi Khan
Tulsi is back from retirement for the third time!
When Tulsi is not on a campaign to fatten the staff with her fantastic curries, she trains theatre nurses and supervises the running of the operating theatre.  Her exceptional skill and experience is matched only by her untiring enthusiasm.
As the matriarch of the practice, Tulsi brings a calming, affable, warm and personal touch to daily patient care. She always has something in common with the patients; young and old, male or female, and can charm them with her storied past.
Tulsi is a person who can be truly called cosmopolitan. She is of Indian descent and left her native Fiji for Brisbane where she studied nursing. Incidentally this is where she met her husband, with whom she also ran a successful business for many years. She has lived in Vancouver, Canada for many years but has now returned to these blessed shores.
She is gifted, kind, compassionate, and has the enthusiasm of a child. She brings to the practice skill, dedication, and kindness with that unique style that is hers alone.
Tulsi is perpetually rejuvenated!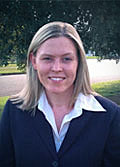 Mrs Eleanor Grant
Eleanor is a busy young mother to three baby girls but somehow still finds time to manage accounts and administrative duties that are pivotal to the smooth running of the practice.
Eleanor and her husband are also very successfully managing a family business and Eleanor brings those experiences in her skill sets to this practice.
She is a gifted and meticulous individual with a keen eye and a sharp intellect. Her duties does not place her in patient contact but she is regardless still of utmost importance to daily patient care.
Ms Kathleen Jalandoni
Kae is the newest member of the practice. Having recently completed a prestigeous training programme, she brings up to the minute knowledge, modern clinical exposure, and the enthusiasm and youth that makes her particularly suited to her role as the practice nurse and surgical assistant.
She has taken to her new roles with such fervour and passion that in short order she has become indispensible to the running of the practice. She is charming, capable, intelligent, and indefatigable.